Product categories of Bundt Pan, we are specialized manufacturers from China, Bundt Cake Pans, Bundt Pans suppliers/factory, wholesale high-quality products of Small Bundt Pan R & D and manufacturing, we have the perfect after-sales service and technical support. Look forward to your cooperation!
China Bundt Pan Suppliers
Baking in a
Bundt Pan
is as easy as baking in a regular baking pan. But the fluted sides, rounded bottom and the center tube mean a Bundt pan makes a cake---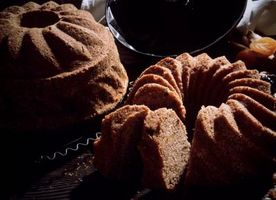 or a meatloaf or gelled fruit salads or deserts---as pleasing to the eye as the palette.
Although many cookware makers produce a fluted tube pan, Bundt Pans were designed and first produced by Nordic Ware in 1950.
Tips & Warnings

If the cake is cooled but refuses to leave the pan, a rubber spatula should be inserted between the pan and cake to free the cake. Metal spatulas should not be used for this, since they will scratch nonstick surfaces. Because the pan is ring-shaped, it should be placed in the center of the oven for even heat distribution.

For meatloaf, use the leanest possible meat and drain any grease off before inverting the pan onto a plate.